3 minutes reading time
(516 words)
Free Windows 10 Upgrade Ending July 29th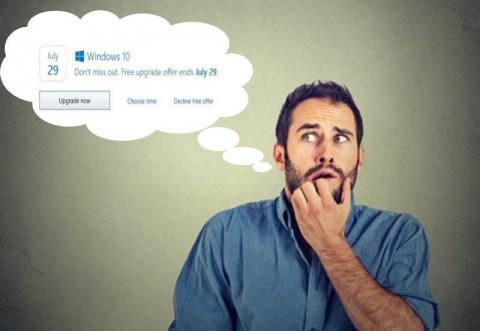 On July 29th 2016 Microsoft will end its FREE campaign for Windows 10. This most likely signals a minor version upgrade or a Service Pack release imminent. For those of us who have held out, this may be the time to consider switching. But before undertaking the Windows 10 upgrade, here are a few considerations.
Privacy Concerns. Windows 10 marks the boldest data mining campaign in Operating System history. It collects more data than any other system known. From search history, travel locations, contacts, and shopping patterns, it is all collected and presumably sold to marketing firms who use trends to target ads.
Older Machines. If your system is more than 5 years old (and wasn't top-of-the-line then) you will have problems.
Compatibility. Windows 10 does not have a robust repository for drivers – particularly for older applications.
One Drive. If you use One Drive you will find that it has been taken away in Windows 10. Make sure you have a local or backup copy of those files accessible.
Media Center and DVD Player. These applications have been replaced with Windows 10 integrated apps. If you liked the look, feel, and functionality of Media Center, you're out of luck.
Less Control of Updates. Windows 10 pushes updates more frequently and with less notification. Often as soon as they are available with no notice. If you liked taking the 'wait and see' approach to ensure updates are stable, you will really dislike the new update schema in Windows 10.
Do I want to learn a whole new system? I have omitted Windows 8 users in this article because Windows 10 is not that much different than Windows 8, at an operating level. However, if you are making the leap from Windows 7 to Windows 10, there is a sharp although short learning curve. I would suggest that we all stay mentally flexible and be not afraid to learn new things.
Windows 7 Security Updates. Windows 7 has ended mainstream support, though security updates will continue until January 14th, 2020. This means most computers can continue to run Windows 7 until their usable lifetime has expired. For power-users, this means your computer can expect a usable lifetime of 3+ years. For the average user, your computer has a usable lifetime of 5+ years.
There is no easy answer. If you want newer and shinier, go ahead and upgrade. If you are rigidly opposed to change, definitely do not upgrade. Be prepared to take some time to get to know your new system. There are many changes and new functionality. Be aware that in order to minimize the privacy concerns, you will need to disable Cortana (one of the main new features in Windows 10), and change many of the default settings. In order to further minimize privacy concerns, you will need to 'hack' the OS. You can watch a great tutorial on regaining privacy here (Thank You Byte My Bits).
If you need assistance with this or any other technology concern, please reach out to one of our consultants for a FREE no-obligation phone call at 719.749.1112.