Increase Leads and Sales Through Online Marketing
Most businesses today have a website. Good or bad, they have a website. The problem is that if your website and online marketing strategy were not thought through before you built your website, you are probably losing business. It is not enough to just have a website. Millions of companies have websites and are never found on the internet. You can find them if you know their name or URL, but they aren't able to be found through the products or services they sell. The fact is that if your website doesn't rank on page one of Google, your company doesn't exist to the internet consumer. To increase leads and sales through online marketing, a well thought out plan, an online marketing strategy is needed.
Your Website - The Center of Your Online Marketing Strategy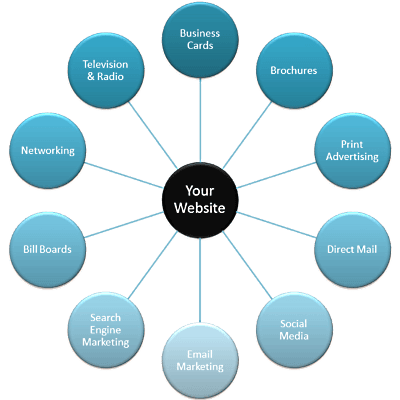 From your basic business card to direct mail postcards, from print advertising to television advertising, no matter the medium, your website address is proudly displayed. The question is, how much thought and time did you give to the design of your website? If every piece of advertising you do is sending people to your website, does your website make a good first impression? Does it provide prospects with a good user experience (i.e., is it easy to use and can they find the information they want easily?) And, was it designed to create a sales funnel and convert visitors into future sales opportunities?
Your Website – A Lead Generating Machine
Your website, if well designed, should be a lead generating machine. A good website design will:
Follow current Google search engine optimization standards.
Include content with strategic keywords to ensure the best possibility of ranking high in the search engines.
Have compelling call to action statements on each service page.
Capture prospect information to create a sales funnel for future business.
Enhance and work with your other marketing strategies. In other words, when you are running an ad campaign you don't necessarily want to send people to your home page.
Pay for itself and then some in closed business.
The most important thing when designing your website is to realize that it is not something you create and then sit back and wait for it to work. You would not put an ad in a newspaper for 12 months and not change it if it wasn't generating leads. And so it is the same with your website. Your website can be a lead generating machine but it needs to be analyzed and adjusted on a monthly basis.
Online Marketing Strategy
A well designed website is just one part of your online marketing strategy. When creating a strategy you must look at who you customers are, where they are and put your name in front of them on a regular basis. Your marketing strategy should be driving prospects to your website and then either closing them or capturing their information to sell to them in the future.
Depending on whether your customers are consumers (B2C) or other businesses (B2B) you will want to include social media as a part of your online marketing strategy. Facebook, Linkedin, Twitter, Pinterest, Youtube should all be considered. But, there is an art to using social media as part of your online marketing strategy. You can't just push your products every day or you will alienate your fans and followers. You have to build a relationship showing them the character of your company.
Guardian Solutions' Approach to Online Marketing
Before we ever sit down to program a website, perform search engine optimization or make a suggestion as to what you should be doing on the internet, we are going to analyze your business and your competitors. We want to know who you are competing against and what it will take for you to beat your competition online. Our process of discovery allows us to identify the best solutions for your company and your budget.
To learn how Guardian Solutions can help you generate business from the internet, call us at 719.749.1112 or fill out the form below.