Has your Wordpress or Joomla website been hacked?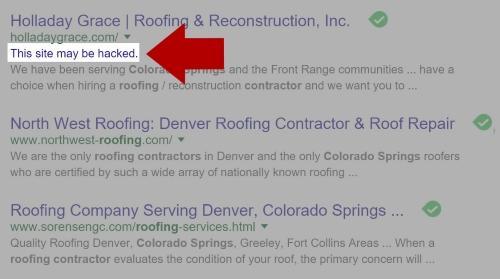 If you logged into your Wordpress or Joomla website today only to find out it isn't there, it doesn't look like it used to, or it is redirecting visitors to a porn or other site full of advertisments that don't belong to you, then your website has been hacked.
A hacked website can hurt your reputation, expose visitors to your website to viruses, tank your search engine rankings, and worse, redirect money or steal client information from your site.
Hacked Website Repair
At Guardian Solutions our hacked website repair team consists of cyber-security specialists who will get your website back up and running. Our hacked website repair services include:
ü Removal of all malware from your website
ü Restoring your website to pre-hacked condition
ü Identifying and addressing all website security issues
ü Implementing website security measures based on current best practices
ü Implementing a website backup plan
ü Removing your site from blacklists
ü Working to restore your websites Google Rankings.
Hacked Website Help
Finding out that your website has been hacked can be overwhelming. But you can rest assured that the cyber-security team at Guardian Solutions has extensive experience in online security measures and provides hacked website help to get your site back up and running as quickly as possible.
For quick response to get your website up and running, call Guardian Solutions today… 719-749-1112.
Protect Your Website From Future Hacks
Security Plus Concierge Services
If the on-going security of your website is a concern to you, let the cyber-security specialists at Guardian Solutions take care of your website. The Security Plus Concierge Service includes:
Secure Hosting on Dedicated Servers
You website will be on our secure, dedicated servers being watched by the best in the industry.
Software updates and patches installed as they are released
Our cyber-security specialists have their hand on the pulse of the latest software updates affecting your website. We install updates and software releases as soon as they are announced.
Daily, Weekly and Monthly Backups
Through the cataloging of multiple backups, if the worse should occur, your website can be restored in a timely fashion.
24/7 Website Monitoring
Hackers don't sleep and neither do our cyber-security experts.
Let Guardian Solutions fix your hacked website and handle your website's security so you can focus on running your business. Call Guardian Solutions today… 719-749-1112.